Community health and safety is an important focus of the Grasse River remediation project. Arconic developed the Community Health and Safety Plan with EPA, NYSDEC, NYSDOH, and SRMT that describes the measures to be implemented to protect the surrounding community during work at the Secure Landfill on the Arconic Massena West property, staging areas near the Route 131 bridge and along Haverstock Road, and within the river. You can view the Community Health and Safety Plan at the following link: River remediation. The Community Health and Safety Plan is specific to construction activities that may impact the community and includes noise and light controls, traffic safety, boating and recreational safety, and an environmental monitoring plan.

Also note that the New York State Department of Health (NYSDOH) has issued a fishing advisory for the lower Grasse River (eat no fish between the Grasse River mouth and Massena Power Canal). Details are available in the Fish Advisory brochure and on the NYSDOH website.
Noise and Light Controls
Arconic is working with the contractor to limit the noise, as possible. Noise monitoring activities will be performed with results compared against U.S. EPA-approved criteria. Lighting will be needed for worker safety at the staging areas and on the river during night operations. Lighting will be adjusted to focus on the work areas.
Traffic Safety
The 2021 work will result in an increased level of traffic especially from cap material deliveries. As such, we ask that everyone exercise caution when driving in the vicinity of the project and Route 131 and Haverstock Road staging areas. The Alcoa East Plant dock will also be used to support the project. Truck traffic routes for the staging areas are displayed on the figure below with the bold dashed black and red lines.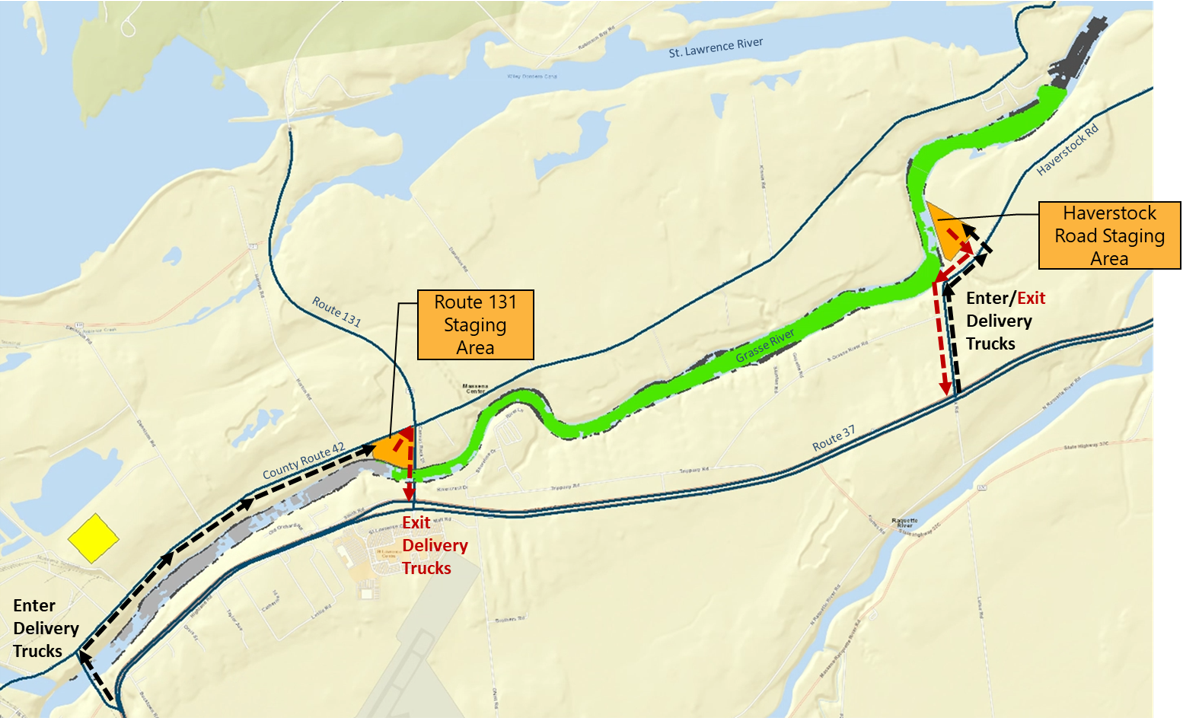 Boating and Recreational Safety
Boaters and swimmers should stay clear of the barges and other equipment on the river during the work. The New York State Department of Health (NYSDOH) has prepared a fact sheet to provide river recreation advice during construction activities. Please visit the NYSDOH website to read this fact sheet.
Environmental Monitoring Plan
Environmental monitoring includes air (dust), in-river and intake water (solids), and noise levels. PCB sampling will be done in water during removal and initial capping work and air during handling of potential PCB-containing material. Please note that there will be some water cloudiness during the in-river work, and these visible impacts will return to natural conditions after construction. All environmental monitoring results are posted on the Construction Monitoring page.